Click on a poster and you will see it in a larger format.

REGISTRATION DOSSIER
!!! Deadline for registration is 10 april 2018 !!!!!!
The registration dossier of the 14th International Simca meeting has 7 sections.
1) Contacts: info@simcabelgium.be
Willy MAGALHAES (Président) 0032 491 25 13 87 (Français, Espanol, Português)

Francis CRULS (Vice-Président) 0032 475 23 59 91 (Français, Nederlands, English)

Willy VANHEMELRYCK (Trésorier) 0032 472 97 03 37 (Nederlands, Français, English, Italiano)

Thierry COLLARD 0032 470 61 50 21

(Français, Nederlands, English, Italiano, Deutsch)
The 14th International Simca meeting is organised by the SimcaMatraTalbot club Belgium vzw-asbl, Populierenstraat 22 1502 Lembeek (Belgium)
Address of the event : Halles aux Foires , Place Communale 7 6800 Libramont (Belgium)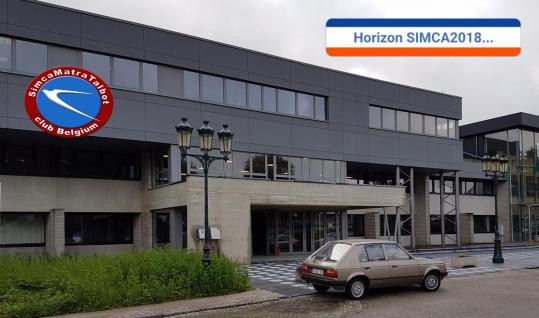 CLICK on picture to enlarge
Registration for the event is obligatory because of planning and organization. The registration form is to be returned even if you do not participate in all activities.
Prior registration gives you the following benefits:
A speedy entrance on the grounds of the event

A welcome package (rally plate, touristic information, the official poster of the meeting, your entrance tickets for the evening dinner(s), surprise.

A parking place

Great prices.
1a) Registration fee for your vehicle(s) = 25 euros/vehicle (reserved parking place, welcome bag…)
1b) About eating ( !!! drinks are not included)
All evening dinners are prepared by a caterer. For the lunch you are more than welcome in our "lunch corners" . The gala dinner will be organized on Friday in order to permit all of you to have a good time without any worry to hit the road the next day.
(*) children = up to 12 years
Breakfast (Friday, Saturday, Sunday)
Rolls, croissant, ham, cheese, warm drinks, orange juice:
....................................................................5 euros
Thursday evening 10/05/2018
Salad bar self-service (10 choices)

BBQ mixed grill (4 meat choices- 400 gr p/p)

Potatoes, French bread
………………………..Adults: 15 euros - Children (*) : 7 euros
Friday evening 11/05/2018 (Gala evening )
Aperitif.

Entrée: pâté terrine, slices of local ham, salad and toast

Main course: chicken with mushroom sauce,

croquettes,

French bread

Dessert: strawberries and chocolate mousse.
………………………..Adults: 30 euros - Children (*) : 15 euros
Saturday evening 12/05/2018
Beef à la Brésilienne, grilled piglet, salad bar, French fries and French bread
………………………. Adults : 20 euros , Children (*) : 10 euros
1c) Lunch corner (cash payment in euro) Cornet de pâtés, French fries, hamburgers, tartlets, waffles…
Friday 11/05/2018
- VISIT of BOUILLON (count one day)

CLICK on picture to enlarge
Bouillon is a small touristic town located 32 km from Libramont. We have prepared a trip off the major roads to bring you to the center of the city where you will find a reserved parking. We have negotiated with the Tourist Office and a combined ticket allows the visit of the Castle (a bond of 1000 years in the past), a show of raptors, the cheese cellar, the Scriptura Museum and visit to the Archeoscope ( the audiovisual show is fascinating and magical). The city Bouillon, "Pearl of the Semois Valley" offers you the possibility to spend a beautiful day. It's a real paradise for food lovers, outdoor enthusiasts, unspoilt nature and lovers of the history of old stones...
Combined tickets (Casttle and Archéoscope) Adults 11 € , Child 8 €
!!!!!!!!!!!! OR !!!!!!!!!!!!!! (impossible to make the 2 visits on one journey)
- VISIT of the DOMAINE DU FOURNEAU SAINT-MICHEL (timing = +/- 4h) road and visit.

CLICK on picture to enlarge
Fourneau St-Michel, located 23 km from Libramont, is a domain with a remarkable set of traditional buildings. It is dedicated to the architecture and the ancient Ardennes lifestyle and to the iron industry from the 18th century. We propose you a walk to eight typical hamlets with traditional and rural architecture from the 19th century: houses, farm, chapel, school, etc.. There is restaurant on the spot.
Entrance : Adults 4 euros , Child 2 euros
Other free and individual visits, but without the benefit of the group rate, can be provided.
Saterday 12/05/2018
A tour through the forests and the "countryside" (about 120 km/ 80 miles). A circuit, along tourist roads right through the solid Woods, in search of authentic villages. Every 30 km there is a pit stop with a tasting of local products. The tour and tastings were organized in cooperation with local partners:
This tour is based on the road book "La Route des Forêts".
(do register in advance )
SUNDAY
Sunday morning (10:00) 13/05/2018 you can participate to a last activity. A visit at a local brewery located at only 500 m from the Simca meeting site. This brewery is named "La Brasserie des Tchets" (tchet = cat in the Walloon local language) and produces the "Chatte", a bear that you will find on the beverages list during the Simca meeting. One hour is foreseen for this activity. Half an hour for the visit of the brewery itself and then the tasting. To facilitate the organization we kindly ask you to register in advance. This visit is free of charge.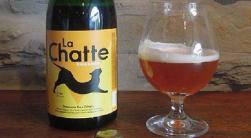 CAMPING: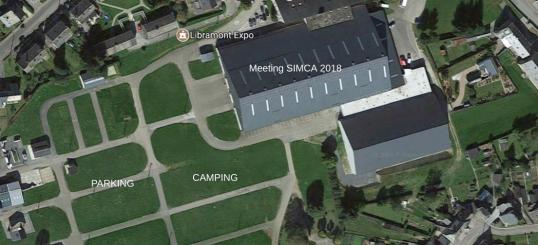 CLICK on picture to enlarge
We propose you a campsite which is located on the site of the meeting, in addition to the car park and close to the main building.
Included in the price: sanitary facilities (showers and toilets) and facilities for electricity if necessary.
The price is 5 euro per adult and per night (children = free)
OTHER GUEST ACCOMMODATION (hotels, gites, chambres d ' hôtes.........)
If you want to find another type of accommodation (hotels, guesthouses…) we advise you to book without delay.
Here is a LIST OF GUEST ACCOMODATIONS near Libramont:
Article 1 : The registration booth is open from 8 am to 8 pm (on Thursday until midnight). The parking on the ground is strictly reserved for Simca vehicles and derivatives (Talbot, Chrysler, Matra,CG, Unic,Sunbeam, Someca …) bearing their numbered sticker delivered at the grounds entrance. Different parking areas will be set up to group vehicles bt models and each parking spot will be numbered. This spot number will correspond to the sticker number on the windshield of the parked vehicle.
Article 2 : The grounds are divided into several areas (exhibition, trading, parking, catering and refreshment stands) which must be respected. A parking lot for exhibitors, trailers and breakdown vans will be set up and marked. All trailers must be equipped with a thief-proof lock. The traffic flow direction on the grounds will be marked and must be followed. Speed limit is 20 km / hour.
Article 3 : Everyone will be expected to follow basic security, decency and cleanliness rules. For cars that will be displayed in the large hall, the batteries must be disconnected and a check can be carried out by the organizing committee.
Article 4 : The organizers reserve the right to immediately and without refund exclude anyone who does not comply these rules (article 3) . Anyone driving dangerously or speeding on the grounds will also be excluded.
Article 5 : An identity sticker will be given to you on your arrival. The sticker must be put on the windshield, preferably on the passenger side.
Article 6 : No lodging is allowed on the grounds (campground is located nearby)
Article 7 : Children are under responsibility of their accompanying adults. Please accompany them for all their movements at night. Rounds will be organized in order to make all the event ground safe.
Article 8 : All vehicles and materials must be covered by insurance policies in compliance with the present legislation, whether it is for personal or driving responsibility, and must meet the present traffic standards ass applicable to the type of vehicle. Even on the grounds, vehicles which are not conform will be allowed to be moved.
Article 9 : Touristic trips must not be taken as sports events. Their aim is to show you the beauty of the region, while enjoying yourselves. Please respect all traffic rules and have all necessary car and personal documents with you (driver's license, insurance, car registration, security jacket(s), etc. ….)
Article 10 : The organizers decline all responsibility, on the grounds, for any damage caused to the vehicles or the persons, unless proven explicitly related to the organization's responsibility.
Article 11 : Trading will take place each day, from 9:30 am to 6:00 pm
Article 12 : It is strictly forbidden to exhibit parts or any objects for sale, outside the defined trading areas. Only the sale of spare parts between participants will be allowed (e.g. : sale of "car trunk").
Please find here the link to the registration form (in 4 languages). If you encounter difficulties in completing some fields do not hesitate to contact us on info@simcabelgium.be. You will get a quick answer to your questions.
Please do not forget this document as you will have to show this paper at your arrival at the site of the meeting.
THANKS FOR YOUR SUBSCRIPTION AND SEE YOU SOON.